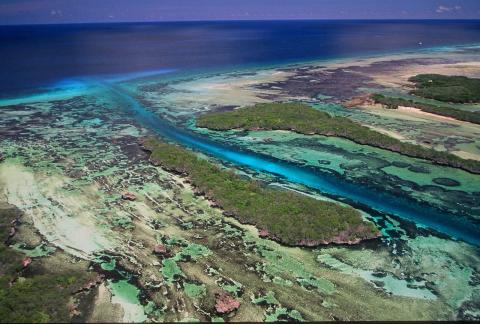 The 2017 Eco-Schools Award winners will be visiting Aldabra from 28th March to 4th April 2018. The six schools that scored the most points in the annual Eco-Schools Programme have been awarded a return trip to Aldabra, fully sponsored by the Seychelles Islands Foundation.
The national Eco-Schools Programme is coordinated by the Environmental Education Unit at the Ministry of Education. It aims to promote sustainability through environmental education by engaging students, teachers and other stakeholders to work collectively to deal with different environmental issues. In the process, different projects or activities are also organised to equip students and teachers with the knowledge, skills and attitudes to sustainably manage their environment. Throughout the year the schools compile portfolios of evidence to record their achievements in the Seychelles' Eco-Schools programme. Schools are awarded points for their efforts based on the general criterion of the Seychelles' Eco-Schools programme and participation in national school competitions. Certificates, cash prizes and flags are examples of rewards given to schools, but the star prize is the visit to Aldabra for a group of students. The six outstanding schools who placed 1st, 2nd and 3rd in the primary and secondary categories in 2017 have selected the list of students who will get the chance of a lifetime to spend a week on Aldabra Atoll:
Primary category: Anse Royale primary school, Baie Lazare primary school, and Anse Etoile primary school
Secondary category: Beau Vallon secondary school, English River secondary school and Plaisance secondary school.
Also joining the students on the trip will be teachers from some of the winning schools and a student from Friends of Vallée de Mai club on Praslin.
The trip this year will be a very exciting one, being slightly longer than in previous years. In addition to the days travelling to and from Aldabra, the Eco-Schools group will spend six full days on the atoll, giving them plenty of time to explore! Some of the activities planned for the students are: seabird identification on a lagoon cruise, guided walk around the Old Settlement to learn about the history of people on Aldabra, beach cleaning – followed by beach games, exploring the mangroves and lots of snorkelling. Weather permitting, the programme this year will also include spending a night at Middle Camp with an evening BBQ, stargazing, and singing and dancing!
The annual Eco-Schools trip is a highlight for the staff on Aldabra and the Seychelles Islands Foundation is very happy to be able to sponsor this star prize once again.