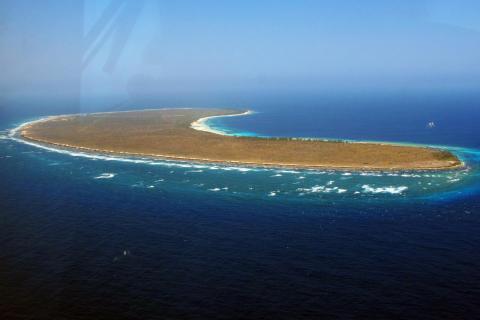 As custodians of Aldabra, SIF has recently facilitated visits to the atoll by the President of Seychelles and SIF Patron, President Danny Faure, the Minister of Fisheries and Agriculture Mrs Pamela Charlette, the Attorney General Mr Frank Ally and Brigadier Leopold Payet. In March 2017 the UNESCO World Heritage site was visited by the National Assembly Committee on Islands. From SIF's perspective the purpose of these visits was to share the Aldabra conservation success story with the Government and the National Assembly, highlighting both the accomplishments and the threats facing the atoll. During the visits they were introduced to the challenges, difficulties and costs of operating the Aldabra research station.
SIF's mandate is to protect and conserve Aldabra Atoll and the Vallée de Mai. Similarly, the Ministry of Environment, Energy and Climate Change (MEECC) has a mandate to implement the laws and policy of Seychelles. The MEECC is fully aware of the environmental issues of the outer islands. With respect to the possible development on Assumption Island, SIF has not seen the agreement; however is hopeful that with the two visits that have taken place the decision makers will take into consideration all circumstances. This includes the implementation of the Aldabra Management Plan 2016 – 2026 which was submitted to Government and approved. It is anticipated that this will be taken into account during the Environment Impact Assessment which will be undertaken as part of the implementation of the agreement.
Notwithstanding the importance of abiding by the Aldabra Management Plan, it is certain that an enforcement presence is needed in the area to cut down on and prevent illegal activities currently happening in the Aldabra Group. On an on-going basis SIF assists with surveillance in the area, having the only regional boat operation that is equipped for rapid response, however SIF staff on Aldabra have no legal mandate to intercept poachers and pirates operating in the area. Additionally, there are on average approximately 15 staff stationed on Aldabra and it is not realistic for this group to guard an area more than twice the size of Mahé without any support.
Therefore, SIF is hopeful that the Government and National Assembly will ensure that the implementation of the agreement will benefit Aldabra, preserving the measures stipulated in the Aldabra Management Plan and taking SIF input into preventing harm to Aldabra from any threats as they arise.