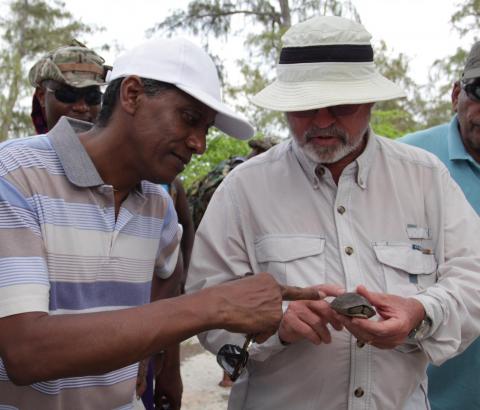 In December Aldabra had the extreme honour of hosting the President of Seychelles, President Danny Faure, for a familiarising visit. President Faure who is also the Patron of the Seychelles Islands Foundation was joined by a delegation including Minister Pamela Charlette of Fisheries and Agriculture, the Attorney General Mr Frank Ally and Brigadier Leopold Payet. It has been over ten years since the patron visited Aldabra, and the visit was a very special event for SIF!
During the visit key research station infrastructure was inaugurated by President Faure. One of these was the newly constructed cyclone shelter that was completed in 2017 to provide shelter to staff on the atoll in the event of a tropical cyclone like Fantala, the strongest ever recorded in the Western Indian Ocean, which devastated Farquhar in 2016. As the effects of climate change continue to be felt in years to come tropical cyclones are likely to increase in frequency and severity, and the cyclone shelter is a vital defence against threats to people on Aldabra. Of the cyclone shelter President Faure commented on the importance of keeping the dedicated Aldabra staff safe while they're far from home. The other key infrastructure to be inaugurated was the ground breaking solar photovoltaic (PV) system that powers the research station. The PV system is the first of hybrid off-grid system of its kind in Seychelles, and although it has been in operation for several years, President Faure's visit was a fitting opportunity to recognise this innovative system. During the visit the President and his delegation learned about the threats facing the atoll, including the global problem of marine waste. President Faure heard about the ambitious marine waste clean-up planned for Aldabra, he shared our concerns and agreed that global solutions need to be found.
The visit wasn't all work though, and the delegation also had the opportunity to explore magical Aldabra! SIF Chairman, Minister Loustau Lalanne, and CEO, Dr Fleischer-Dogley, and the dedicated staff on Aldabra showed the delegation around the atoll. They explored the station and the old settlement, and went walking across the champignon landscape. They visited middle camp, one of Aldabra's satellite camps, snorkelling in the mangroves and viewing the frigatebird colony. They also went on a lagoon cruise and were able to appreciate the enormous scale of the atoll.
The President enjoyed his time on Aldabra, creating memories that will be cherished forever. He was very impressed with the dedicated team on the atoll and expressed appreciation for the efforts they put into ensuring that the trip was informative and enjoyable, he stated that "the words to describe Aldabra still need to be invented". As one of Seychelles' two UNESCO World Heritage sites Aldabra is a site of national and outstanding universal value; it was a great privilege to share it with President Faure and his delegation.