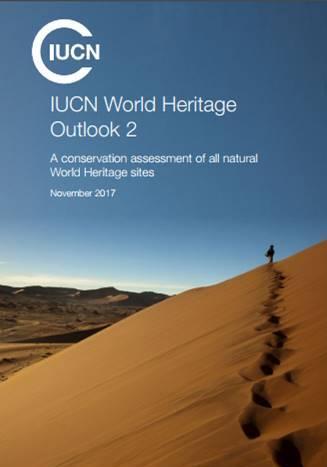 The IUCN World Heritage Outlook 2 report was released during the UN climate change conference that took place in Bonn, Germany last month. The report assesses all of the 241 natural World Heritage sites, examining their threats, management and the status of the features that led to their inscription as World Heritage sites. As Seychelles' two World Heritage sites, both Aldabra Atoll and the Vallée de Mai are included in the IUCN World Heritage Outlook 2. The conservation outlook for both sites was deemed to be 'good with some concerns', the second most optimistic category. In the Vallée de Mai it was found that the protection and management of the site is generally effective, and supported by a legal framework. SIF was gratified to be described as "very competent" and recognised for "effectively implementing science based programmes and outreach and education schemes". The summary for Aldabra also stated that "the conservation outlook for Aldabra Atoll is currently very good" and SIF's management was described as "extremely professional".
Overall the report found that climate change is the fastest growing threat facing World Heritage sites across the globe, and this was the case in the assessment for Aldabra; climate variability and severe weather events are considered the biggest threats to the atoll's ecosystem and species. The report is an update on the 2014 IUCN World Heritage Outlook report, and as such it assesses, for the first time, changes in the status and conservation prospects of the sites. Staggeringly, the number of sites threatened by climate change has increased from one in seven sites in 2014 to a quarter of all sites today, a shocking increase in just three years. Coral reefs and glaciers are among the most threatened ecosystems, but a variety of other ecosystems are also threatened by climate change, from impacts as varied as fires and melting permafrost. The report predicts that the number of sites affected by climate change is likely to grow and that climate change will continue to be the biggest threat to World Heritage sites.
In addition to climate change, the report also shows that other threats, such as invasive species, unsustainable tourism or infrastructure development, are also increasing. Invasive species were highlighted as threats to both sites, particularly the Vallée de Mai, and the illegal collection and unsustainable harvesting of coco de mer nuts was also identified as a threat to the palm forest.
The report is available here and its next edition is planned for 2020. All site assessments can be accessed at here.