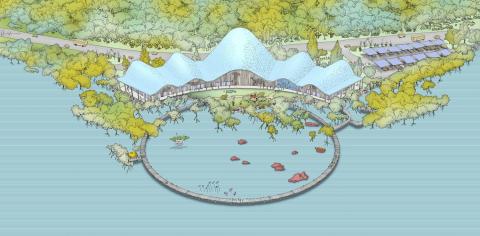 As Aldabra is in a remote location and is logistically and financially challenging to visit, for several years SIF has been planning to create an Aldabra visitor centre on Mahé. Called Aldabra House, the vision is to give Seychellois and tourists the opportunity to discover a taste of Aldabra, not only to see it but also to feel it. This remote-access visitor centre with its adjacent facilities (café, souvenir, conference, and education space) will not only enable people to experience Aldabra, but will also create a highly attractive tourism product for Seychelles. During October the Aldabra House project was presented to President Danny Faure and the cabinet, and was very well received. The Aldabra House Project has been raised to a project of national importance.
Following the project presentation to the cabinet in October, the project made excellent progress throughout November with a geotechnical survey carried out onsite in preparation for the planning application. A team of architects, structural and environmental engineers, and a cost consultant, all supported by the Eden Project team in the UK, are working very hard to ensure that all required preparations for the planning submission are completed by the end of the year.
Dr Frauke Fleischer-Dogley experiencing virtual reality © SIF
Meanwhile the exhibition space design has undergone some exciting developments; the available outdoor areas will now be included in the Aldabra experience. A 2-day workshop was held with the exhibition designers in the UK to discuss and develop the exhibition scheme design which cumulated in a meeting with Marshmallow Laser Feast, a company that develops state of the art virtual realities and augmented realities. Thrilling possibilities are being explored to include such stunning experiences into the Aldabra exhibition. With excellent support on all levels the project is finally making major long-desired progress, 2018 will be a year of much exciting news and development, so watch this space!