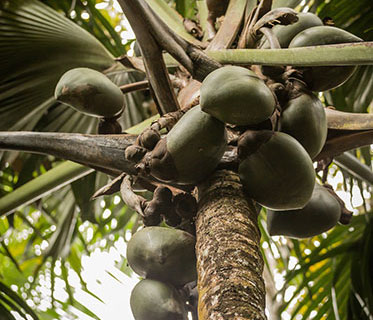 Welcome to Vallée de Mai
A living remnant of the ancient palm forests on Praslin, the Vallée de Mai is the green heart of Praslin Island and contains the Seychelles' largest intact forest of the endemic coco de mer palm.
At only 19.5ha the Vallée de Mai is one of the world's smallest natural UNESCO World Heritage Sites and millions of years of isolation have led to the evolution of many unique species in this forest that are found nowhere else in the world. Described as the true 'Garden of Eden' by General Charles Gordon in 1881, the Vallée de Mai has been a source of inspiration and wonder for many years. This mysterious forest first received national protection in 1966 when it was declared a Nature Reserve by the government. Later, in 1983, its international significance and outstanding value were recognised when it was inscribed as a UNESCO World Heritage Site. The Seychelles Islands Foundation (SIF) was awarded the stewardship of this important area in 1989.

Since then SIF has been dedicated to ensuring that this World Heritage Site is a well-managed and protected area where conservation, research, education and tourism are prioritised and sustainably balanced.

Download our free Vallée de Mai app now!