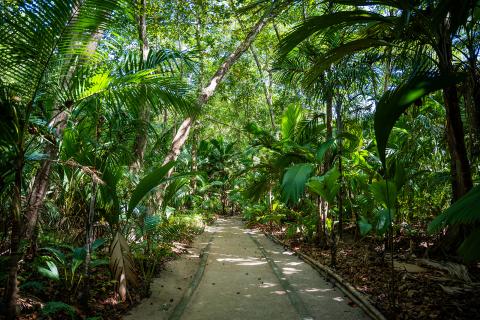 Fond Ferdinand and the Vallée de Mai UNESCO World Heritage Site have won the Tripadvisor 2023 Travelers' Choice Awards this August based on 2022 traveller reviews. The coveted award celebrates destinations that have consistently received great traveler reviews on Tripadvisor over the last 12 months, placing them amongst the top 10% of all listings on Tripadvisor globally.
In 2022, Vallée de Mai welcomed 106,356 visitors whilst Fond Ferdinand Reserve received 17,110 visitors respectively. These impressive visitor statistics reflect the genuine appeal and universal allure of both sites, marking a significant step forward in the Seychelles' journey towards post-pandemic recovery.
"Congratulations to the 2023 Tripadvisor Travelers' Choice winners," said John Boris, Chief Growth Officer at Tripadvisor. "The travel resurgence we've seen throughout the past year has even further heightened the competition. Earning a Travelers' Choice Award demonstrates that Fond Ferdinand and Vallée de Mai have provided great experiences to those who matter most: your guests. With changing expectations, continued labor shortages, and rising costs, this is no easy feat, and I am continually impressed with the hospitality industry's resilience and ability to adapt. Cheers to another successful year!"
Furthermore, the Vallée de Mai has also attained the 2023 Experts' Choice Award, the only accolade based on professional reviews. Experts' Choice Awards are based on more than one million reviews from travel guides, magazines, newspapers and other respected sources. Fewer than 2% of venues and attractions globally receive an award.
With positive reviews from publications such as Lonely Planet and Atlas Obscura, Vallée de Mai is featured on Tripexpert.com as one of the best attractions in Seychelles. In receiving the news, Site Manager of Vallée de Mai and Fond Ferdinand, Mr Marc Jean Baptiste commented, "I extend my heartfelt congratulations to the hardworking staff of both sites for their unwavering dedication, diligence, and loyalty. These awards stand as a testament to their exceptional efforts. I am profoundly proud to lead such an extraordinary team that is truly making a positive impact in the Praslin community. Moreover, by providing our esteemed visitors with a once-in-a-lifetime experience at these two outstanding natural wonders of the Seychelles. Thank you for your commitment and contribution to these remarkable achievements."
SIF's Chief Executive Officer, Dr Frauke Fleischer-Dogley added, "We are over the moon that both sites have been recognized with awards, specifically since this is a first Tripadvisor award for Fond Ferdinand, and I will personally congratulate the team on this achievement. This is testimony that our team both on and off site possess the know-how to not only manage established tourism sites, but also to develop the tourism potential of a site. Having also been awarded the ExpertChoice award for the Vallée de Mai recognizes our commitment to professionalism in tourism. However, we will not stop here, our next step is to scrutinize our tourism operations towards sustainability, not only for our sites but to contribute to a more sustainable tourism industry for the whole of the Praslin community."
PHOTO CREDIT: Photo 3 - The Agroforestry zone at Fond Ferdinand © Danio Denousse, Courtesy of Tourism Seychelles