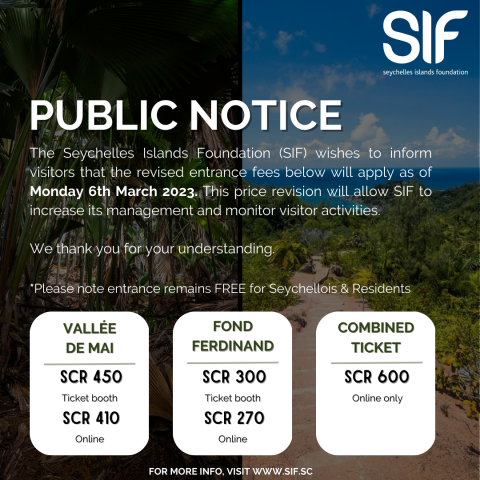 The Seychelles Islands Foundation (SIF), the Public Trust mandated to protect and manage Seychelles' UNESCO World Heritage properties, Vallée de Mai and Aldabra Atoll, as well as the Fond Ferdinand Nature Reserve has revised its entrance fees to ensure that tourism remains sustainable across all sites.
In over 20 years, entrance rates have not been revised to reflect the contemporary market, with increased operational costs being steadily sustained by the foundation for two decades. The update in fees is necessary to ensure that tourism activities are assessed continuously and align with Vallée de Mai's Outstanding Universal Values that allow for its prestigious designation of UNESCO World Heritage site.
Furthermore, the revision will enable the development of Fond Ferdinand's tourism capacity through facilitating self-guided visits for visitors as well as expanding facilities, and to initiate much needed research and to facilitate community engagement and initiatives, thus elevating its status as Seychelles' natural and cultural heritage.
In line with the above, SIF plans to apply for a destination certification under the Global Sustainable Tourism Council to develop long-term sustainable policies and a sound visitor management system for all its managed sites.
The below fees will come into effect as of Monday 6th March 2023 along with the launch of an online ticketing platform, where visitors of the Vallée de Mai and Fond Ferdinand can benefit from app. 10% reduction in entrance fees when choosing to purchase an online ticket.
Although the price for individual tourists will increase, Seychellois and residents will continue to benefit from free entrances to all of SIF's managed properties, and Destination Management Companies (DMCs) will continue to operate under the previous pricing for a grace period of 10 months.
Commenting on the revision SIF's Chief Executive Officer, Dr Frauke Fleischer-Dogley added, 'This price revision will allow SIF to further invest in Seychelles natural heritage by increasing its management and monitoring of visitor activities to understand the long-term impact of tourism across all our sites. This is crucial for all of us to ensure that the necessary measures are taken to reduce the vulnerability and increase the resilience of these sites of not only national but international importance.
More over with having the responsibility of managing Fond Ferdinand, SIF will need to increase its engagement with the Praslin community to facilitate and sustain development for their benefit. 
SIF thanks the public for their understanding in preserving irreplaceable parts of Seychelles' natural heritage. Further information on the revision and online portal will be accessible through the SIF website on www.sif.sc, and inquiries can also be made to info@sif.sc via email.