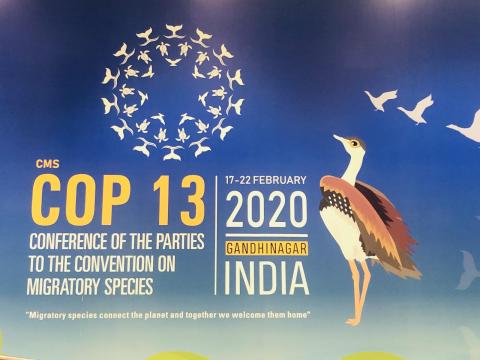 The Thirteenth Conference of the Parties to the Convention on Migratory Species (CMS COP13), held from 17th to 22nd February 2020, kicked off the "super year for nature" in Ahmedabad in India. The "super year for nature" includes a UN Summit in September and culminates in the UN Biodiversity Conference at the end of 2020. This is when a new global biodiversity strategy for the next decade will be adopted - the Post-2020 Global Biodiversity Framework.
The UN Global Assessment Report on Biodiversity released in May 2019 (IPBES Report) found that globally we are in danger of losing one million species to extinction, including migratory species, if we do not step up our actions.
The CMS COP 13 focused on adopting actions to help reverse the decline of migratory species and promotes the concept of 'ecological connectivity', calling for the protection and restoration of important geographical areas that support migratory species during the different phases of their natural lifecycles.  
Seychelles is fully behind the concept of ecological connectivity, having invested in the Marine Spatial Planning Initiative to ensure 30% of its Exclusive Economic Zone (EEZ) is protected. Ecological connectivity is of paramount importance to sustain every cent and rupee the country has invested in nature conservation, especially with the severe threat of climate change.  
The African parties to the convention appointed Seychelles to the Standing Committee and Scientific Council as an alternate member to represent the region. Both committees are responsible for carrying out interim activities on behalf of the Conference of the Parties (COP).
CMS COP13 added new species for protection and addressed emerging threats such as light and plastic pollution. A report released at CMS COP13 indicates that despite some success stories, the populations of most migratory species covered by CMS are declining. Seychelles as an island nation called for the identification of additional resources to address marine debris. 
Seychelles was represented at the conference by the National Focal Point to the CMS, the CEO of Seychelles Islands Foundation (SIF) Dr Frauke Fleischer-Dogley. SIF is mandated to protect the UNESCO World Heritage Site Aldabra Atoll. Aldabra is one of the important temporary homes Seychelles provides to many marine migratory species, such as the whale shark, humpback whales and turtles. It also serves as an important stepping stone and rest place for avian migratory species.