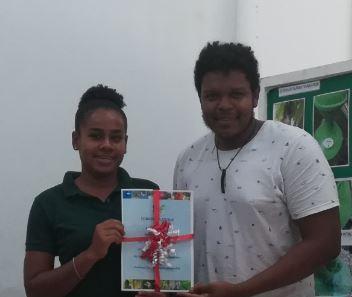 SIF has awarded its Professor David Stoddart scholarship to two students studying BSc Environmental Science at the University of Seychelles. Shanone Hibonne's and Ella Nancy's university tuition fees will be funded by SIF for the duration of their undergraduate course.
SIF offers this scholarship on an annual basis to Seychellois students who have secured a place to study Environmental Science at the University of Seychelles. The scholarship is awarded in honour of the late Professor David Stoddart, the British physical geographer known for his study of coral reefs and atolls. David Stoddart was instrumental in setting up the research station on Aldabra and also protected the atoll from being used as a military base.
Dr Frauke Fleischer-Dogley, CEO of SIF, said "We were delighted to award these scholarships to Shanone and Ella who are very promising conservationists with bright careers ahead of them. SIF is always looking for opportunities to support Seychellois who are passionate about working in nature conservation. The Professor David Stoddart scholarship is an excellent way to nurture local talent and support more young Seychellois to attain a university education."
Ella Nancy, one of the students awarded the scholarship, said, "The Professor David Stoddart scholarship is the main reason I'm able to do a degree in Environmental Science. This is a fantastic opportunity and I want to do the best I can to complete this course and graduate in three years. This degree will help me to be more equipped in conserving the rich biodiversity of my home country Seychelles."
Shanone and Ella were both employed by SIF and worked in Seychelles' UNESCO World Heritage Sites, the Vallée de Mai and Aldabra Atoll, before they enrolled on their courses. They will return to work for SIF after they have graduated. SIF looks forward to welcoming them back to work on exciting future projects after their studies.