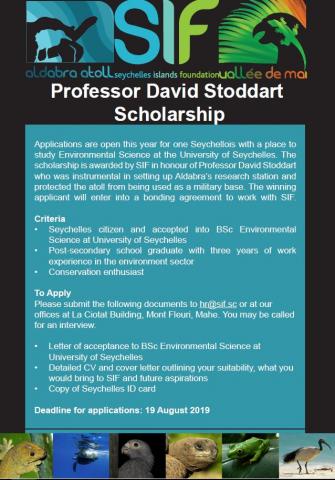 Applications are open this year for one Seychellois with a place to study Environmental Science at the University of Seychelles. The scholarship is awarded by SIF in honour of Professor David Stoddart who was instrumental in setting up Aldabra's research station and protected the atoll from being used as a military base. The winning applicant will enter into a bonding agreement to work with SIF.
Criteria
Seychelles citizen and accepted into BSc Environmental Science at University of Seychelles
Post-secondary school graduate with three years of work experience in the environment sector
Conservation enthusiast
To Apply
Please submit the following documents to hr@sif.sc or at our offices at La Ciotat Building, Mont Fleuri, Mahe. You may be called for an interview.
Letter of acceptance to BSc Environmental Science at University of Seychelles
Detailed CV and cover letter outlining your suitability, what you would bring to SIF and future aspirations
Copy of Seychelles ID card
Deadline for applications: 19 August 2019