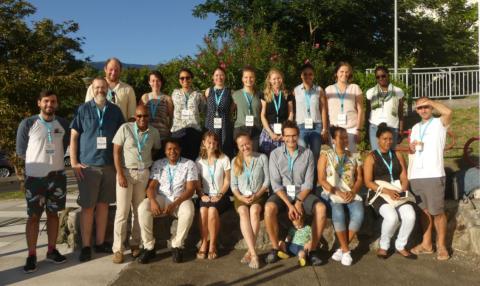 Seychelles' conservation organisations were well represented at the International Conference on Island Biology 2019 which was hosted by the University of La Réunion last week, 8–13 July 2019. The global conference attracts scientists and practitioners from around the world who are working to manage and protect island ecosystems. This event gathered 370 attendees from 47 countries and represented more than 200 organisations working on island research and conservation. This is the third time the event has been run by the Society for Island Biology.
Seychelles Islands Foundation (SIF), which manages and protects the UNESCO World Heritage sites of the Vallée de Mai and Aldabra Atoll in Seychelles, was pleased to note that there was strong representation from Seychelles organisations at the conference. SIF collaborates and shares research with many other organisations and research institutions, both in Seychelles and around the world.
Dr Frauke Fleischer-Dogley, Chief Executive of SIF, said "SIF is delighted to have several staff and affiliated students and researchers attending the Island Biology Conference which is a fantastic opportunity to share information, provide international exposure to staff, and network with researchers and practitioners from around the world who are working to tackle similar issues. SIF participants were pleased to see so many familiar faces from several organisations in Seychelles which reflects the strong emphasis the country places on research-based conservation and environmental protection."
Alongside SIF, other Seychelles organisations which attended the conference were Green Islands Foundation (GIF), the Island Biodiversity and Conservation Centre of the University of Seychelles (UniSey, IBC), Terrestrial Restoration Action Society of Seychelles (TRASS), Seychelles National Parks Authority (SNPA) and Fregate Island. There were also researchers from the University of Exeter, University of Oxford, University of Bremen and the University of Zurich who are collaborating on studies based in the Seychelles. All of these organisations attended the conference to present the research and conservation work they are carrying out in Seychelles.